~ At a Quick Glance
Founded: 2014
Origin: USA
Located: USA
Focus: AI-powered growing
Most Popular Item: Seedo Homelab

~ Brand Details
The world is changing – be ready for the agricultural challenges of the future with Seedolab.
Seedolab offers growing solutions that are changing the landscape of agriculture. Grow everywhere, grow 24/7, save water, don't depend on seasonality, eliminate pesticides, and get a high-quality yield – all of this and more is possible with Seedolab.
Seedolab offers revolutionary growing kits that are space-efficient, energy-efficient, and allow you to monitor and control your growing process via a simple app on your phone. Seedolab combines technology and agriculture into a revolutionary product that is changing the landscape of agriculture.

~ Backstory
Seedolab only materialized in 2018 but their journey started back in 2014 when they started to conduct market research and created their first prototype. Things picked up in 2015 when a team of engineers worked to reach a more perfect design and testing began. Seedolab experimented with growing different plants and figuring out all of their individual growing needs. By 2016 they were on their 5th prototype but had still not released anything to the public. Realizing that their goal was creeping closer, they started work on an app design that would pair with the growing kit. In 2017, the final prototype was made and started to undergo trials. They made sure that everything was up to safety standards. The time was right and everything was ready to go – so Seedolab went into mass production and prepared themselves for commercial sales. In 2018, Seedolab became available to the public. Shipping began and the growing revolution was officially in full swing.
Seedolap pairs with an easy-to-use app that you can use to monitor your plants' progress from anywhere. It's revolutionizing agriculture by combining it with technology! Seedolab is a life changer – it will tell you when it is harvest time and it will automatically release water and nutrients that your plants need.
With Seedolab, you don't need any prior experience to get going and get growing. Everything happens automatically! It is designed to be set up for your plant's ideal needs in its natural condition. You can get the maximum yield every time with no effort and using minimal space.
A light system is set up to give your plant the light it needs at the optimal times. You just set it according to your plants' needs and it is ready to go!
Seedolab is totally smell proof. Nothing will leak out. It has internal air conditioning so achieving the right temperature is so easy. It used to be that plants had to be grown in certain seasons. Thanks to Seedolab, that is not the case anymore.
Everything is airtight. Humidity is controlled.
It really is that easy. All you do is set it up and get growing.
Seedolab is the first intelligent fully automated growing device. It functions with hydroponic systems. It makes growing so effortlessly easy. Seedolab creates a sterile weather system for your plants to thrive in.
There is no need for pesticides or herbicides because everything is isolated. A full spectrum of LED lighting ensures that you do not even need the sun.
You can stream your progress right to your phone and view it in full HD anytime, anywhere.
Seedolab's devices are small and designed to be space-efficient – but there is also a Seedolab farm where they are running large-scale growing operations with the same fully automatic technology. Seedo Farm is manufacturing growing containers that will allow communities in high-risk areas to grow food locally without fear of crop loss due to environmental and climate factors. It's an eloquent and much-needed solution to the problems of agriculture in shifting climates and climates where farming is already happening in less than desirable environments.
Containers use AI-powered technology to maximize growth potential. Results are guaranteed regardless of external factors. Communities will be able to grow both local and non-native produce. Agriculture will be less labor-intensive and energy-intensive than ever before. Containers can be stacked and are highly space-efficient compared to conventional agriculture. The large scale containers have all the same mind-blowing features of the smaller growing kits that are available. Containers are designed to be transportable and they can be installed with ease. This is just another way that Seedolab is revolutionizing the world of agriculture. These containers are a game-changer and we can expect to see them coming into much more use around the world in the coming years.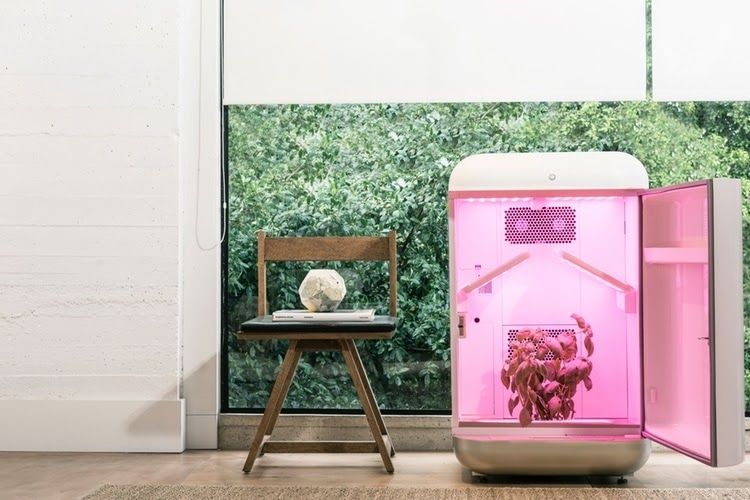 ~ Rating
5 STARS – what is not to love? Seedolab is solving all of the problems of modern agriculture and doing it in unprecedented ways by combining farming with technology. Seedolab makes agriculture easy and completely sustainable.
See what others think of Seedolab below (or leave your own review at the bottom of the page)

~ Public Rating
3 out of 5 stars (based on 1 review)

~ Brand Breakdown
Seedolab is in a league of their own. The concept has been years in the making and now that it is here, it is making waves – and this is only the beginning.
Seedolab hopes to revolutionize global agriculture. They have the power to make high-quality food more accessible and more sustainable.
By eliminating the need for herbicides and pesticides, Seedolab has the ability to make us all much healthier. Neither people not the planet need any more harmful chemicals on their food or in the air.
Seedolab is an industry game-changer. When it comes to personal growing, they have made it completely effortless by integrating technology. On a larger scale, the world of agriculture can benefit enormously from their technology.
In 2019, Seedolab is small and only starting to grow. In the future, we hope to see them dominating agriculture and making food production safer, more reliable, more sustainable, and less harmful.
Pros
Effortless growing
Everything is accounted for
Seasons do not matter
Space is minimized
Yield is maximized
Cons
Personal growing can become energy-intensive
Seedolab can save up to 90% of water consumption when it comes to growing. The yields are large. They are totally pesticide-free. On a large scale, Seedo farm could be a complete game changer that could transform agriculture into a much more sustainable industry.

Top Selling Items

Seedo Homelab
An autonomic home growing device that lets you start growing effortlessly in your own home. Designed to optimize space and deliver the largest possible yields – it's a small, portable box that you can control with an app on your phone. Utilizing intelligent AI growth technology, and mobile-enhanced automation, growing has never been easier and more efficient than this! Grow your own pesticide-free herbs and vegetables with ease.
Designed to be durable, it is delivered with a 1-year warranty. It also comes with a free full growing kit that includes:
1 Carbon Air Filter
2 CO2 Cylinders
2 Nutrients Containers
1 Growth Slab for up to 5 plants
1 Water Filter
1 pH+ Solution
Android / iOS Mobile app

Full Growing Kit
A growing kit that has everything that you need to get growing today. Consisting of everything needed for one grow cycle, it's the most hassle free and cost effective solution. Seedolab recommends replacing all consumables after each growing cycle. The Full Growing kit is the easiest way to get it done.
It contains:
Water Filter
Carbon Air Filter
Nutrients Kit
CO2 Cylinder Kit (2 units)
Rockwool Slab
pH Up Solution

Basic Growing Kit
For when you need to replenish your growing essentials but don't need to fork out for the full growing kit. Consisting of the minimum items needed for one growth cycle, it contains:
Carbon Air Filter
Nutrients Kit
CO2 Cylinders Kit (2 units)
Rockwool Slab

The pH Sensor Calibration Kit
Consisting of the minimum items needed for one growth cycle, it contains:
Designed to be used before starting a new growth cycle, this kit ensures that your conditions are perfect for growing. During normal operation, the pH sensor may lose its calibration. An uncalibrated sensor may affect the plant's yield. It is highly recommended to calibrate the pH sensor after each growth cycle, but just before starting a new growth cycle.

~ Final Thoughts
Seedolab is a remarkable game-changing product. Growing has never been so easy – you can grow anything, anywhere, anytime! The combination of agriculture and technology is one of the most innovative ways that brands have tried to merge traditional ways with modern ways. Seedolab has a bright future and their vision not only makes growing easier on an individual level – it can make the world a better place!

~ Q&A's
How many plants can I grow in 1 cycle?
In one box, you can grow between one and 5 plants in one cycle. 5 plants may require you to trim them, whereas one will need little to no extra work.
Where does Seedloab ship to?
Currently, Seedolab ships to North America, Canada, and Europe.
What kind of plants can I grow?
Seedolab's home growing kits are ideal for small plants such as fruits, vegetables, and herbs.
Why is growing without pesticides possible?
Seedolab created a closed-off, sterile environment that eliminates the need for pesticides because pests simply cannot get in!
---
Leave your review:
J phftle re
Horny Shriya called you 2 times. She is online. Click the below link to chat with her. She is very horny now.
https://live-sex-chat.club/?chat=horny-shriya