~ At a Quick Glance
Founded: 1995
Origin: Australia
Located: Global
Focus: Casual and Summerwear
Sustainable Materials: Hemp, Bamboo, Ramie, Organic Cotton
Most Popular Item: Thought Bamboo Shirt

With the motto 'Wear Me, Love Me, Mend Me, Pass Me On', it is immediately easy to see that Thought Clothing is all about sustainability and functionality. Thought Clothing is all about making the world a better place. Co-founder Rachel Kelly says that the motto is a little reminder for people to look after what they own – whether it is their clothes, the earth, or their communities.
Thought clothing is a summer orientated lifestyle fashion brand that encompasses all the values of nature lovers into beach worth fashion. They have an extensive range that is composed of a vast variety of sustainable textiles and is often adorned with visually striking prints uniquely created for them. Their clothing is light and breathable; designed to be well ventilated, and available in a wide range of prints and colors. They boast an extensive range with something to cater to almost anyone.

~ Backstory
Thought Clothing was born in the heat of an Australian summer out of two friends' desires to wear sustainable and environmentally friendly clothing made from natural materials that would keep them cool in the harsh Australian climate and be stylish at the same time.
Founded in 1995 and formally known as BrainTree clothing, the brand decided that Thought Clothing was a more fitting name that reflected on their journey and what they have achieved and still aims to achieve in the world of sustainable fashion. The new name Thought Clothing intends to represent how the business has grown and evolved and all the thought that has gone into creating the sustainable fashion line that they are today.
Since their emergence, Thought Clothing has been experimenting with a wide variety of sustainable textiles, always searching for new natural fabrics and exploring their uses. As well as offering a uniquely sustainable fashion brand, they aim to educate people about the small ways that they can take to make a difference in the world. Thought Clothing started out as a small Australian brand with a modest collection of men's casual clothing and beachwear made with sustainability in mind. They have since grown into a global business with headquarters in North London who caters to both men and women. Their early collections made use of hemp and sustainable Ramie, but they have since expanded to include a variety of sustainable materials in their colorful clothing range. Thought Clothing is a go-to for natural and ethical casualwear and beachwear for men and women.
Their first release was a limited small line of sustainable men's t-shirts and beachwear. In their early days, all of their clothing was either hemp or ramie based, but they have since expanded to include other sustainable items such as ethically sourced cotton.
Ramie is a little embraced textile in the sustainable fashion market, but Thought Clothing recognized its potential a long time ago and has showcased its amazing functionality. Ramie, which is also known as Boehmeria Nivea or Chinese Grass, is a naturally occurring plant in the nettle family. It is most commonly found in Eastern Asia.
Textiles created from ramie and ramie blends are durable, water resilient and have a silk-like texture, making them an attractive sustainable fashion option. Another benefit of ramie is that it grows with ease, much like bamboo and hemp. It requires little water and can be harvested 6 times a year. Bamboo, hemp, and ramie are all considered highly sustainable because of their low-effort growing process that yields much larger returns than cotton.
Thought clothing is focused on slow fashion over fast fashion. The textiles that it uses are not only sustainable but durable and designed to pass the test of time. Growing massively from their first range of simple men's shirts, they now boast a full range of sustainable clothing, including their iconic bamboo socks and even accessories.
Keeping true to their Australian origins, they are best known for breathable summerwear and beachwear made from natural substances. Beachwear is in high demand in Australia, and Thought Clothing has been inspired by this demand to create a sustainable market. Thought Clothing has artists create patterns and prints specifically for them, giving them a unique feel that is vibrant, beachy, and casually fashionable.
Their target demographic is sustainably-minded people who love nature and the outdoors, and most likely live in hot places. Most of their clothing is breathable summerwear. Their clothing lines are inclusive of men and women and boast a large variety of options, even including accessories and socks on their product lines.
Thought Clothing uses natural fabrics that are blended specifically for them, and they promise that their textiles are as durable as they are fashionable. They make use of unique blends of many sustainable, natural materials including organic cotton, bamboo, Tencel, hemp and ramie. Their clothing is often adorned with prints, created specifically for them by a team of artists. These prints make their clothing more expressive and personal. They are usually in bold, vibrant colors with overlaying pictures and textures.
The bamboo and ramie textile industries are relatively new with new technology allowing these hard grasses to become soft, stylish textiles in ways that were never imagined before. Both industries were born in the last decade and have since made huge strides, with soft and breathable bamboo and ramie textiles now available to be seized and used in the sustainable fashion market. Thought Clothing has made use of the new features of these textiles in their clothing in every aspect of fashion.
Thought Clothing's bamboo socks are really something special and extremely hard to come by – socks are often an afterthought when brands deal with sustainable clothing. Thought Clothing has filled this gap in the market with an impressive unique range of natural socks that are available for men and women in every style from ankle socks to long socks. They can be worn striped, plain, or toting the colorful patterns that Thought Clothing has become known for.

~ Brand Images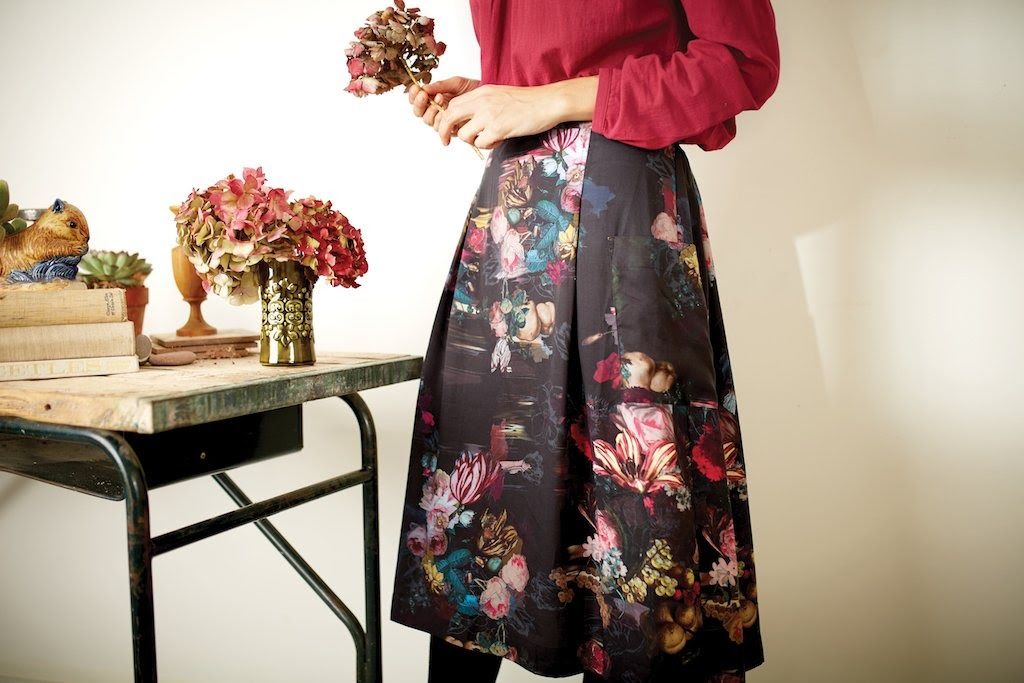 ~ Rating
5 STARS – Thought Clothing's focus on sustainability combined with their ever-growing and beautifully bold clothing collection has earned them this excellent rating.

See what others think of Thought Clothing below (or leave your own review at the bottom of the page)

~ Public Rating
2.6 out of 5 stars (based on 17 reviews)

~ Brand Breakdown
Thought Clothing mainly focuses on summer fashion trends. They are always looking for a fresh perspective to revamp classical styles and new summer trends to engulf in sustainability.
Their casual but stylish beach orientated fashion has made them an industry favorite for anyone looking for fun and fashionable summer clothes that focus on sustainability. The wide variety of natural textiles that they use allows people to explore their options when shopping sustainably. The vibrant artistic patterns that some of their clothing is adorned in allows wearers to express their individuality while remaining fashion-forward.
Thought Clothing will continue to explore all the options of sustainable fashion as new technology allows it to go even further. They will also continue to find new ways to revamp and reuse time tested sustainable fashion items. In recent years, Thought Clothing has focussed more on wholesales that individual sales, which is allowing them to become an easily accessible global brand.
What started with a small range of men's shirts has since massively grown into the large company that Thought Clothing is today, and they are supported by fashion bloggers and large wholesalers alike. Their mission towards achieving sustainability combined with their cool, breathable summer fashion line has attracted the hearts and minds of fashion enthusiasts and nature lovers alike. The way that they have embraced different sustainable textiles has been an inspiration to many brands.
Aside from creating iconic fashion, Thought Clothing has focused its efforts on ensuring the quality of their products from manufacturing to delivery. Every aspect of the company is focused on sustainability, from the office supplies they choose to use, to how they ship goods, to what fabrics go into their creation – every decision is made with sustainability in mind. They are a decidedly slow fashion brand and aim to deliver clothing that is as durable as it is versatile.
Pros
Wide variety of sustainable textiles.
Soft and comfortable.
Sustainable beachwear is hard to find
Fashion forward and eco-friendly
Unmatched focus on sustainability
Slow fashion, durable products
Cons
Too niche for mass market
Little formal or business wear
No warm or winter clothing.
Thought Clothing's uniquely ambitious focus on sustainable fabrics has allowed them to explore every option and deliver the best product possible. The work they have put into finding the best sustainable fabrics has set them apart from other sustainable fashion brands who only focus on one or two sustainable textiles. Their clothing is also refreshingly unique and supported by artists who create their bold, vibrant and unique prints. Thought Clothing is worth supporting because you can trust that what they are delivering is the best sustainable option, and you can choose from a ride product range to find fashion that fits your personal self-expression.
The unique focus that Thought Clothing has placed on finding the most sustainable options has set them apart from other brands. You can rest assured that years of research are putting forward the most sustainable, durable and wearable options forward and into your closet. Thought's focus on sustainability has been present since their formation as is present in every step of their productions.

Top 5 Selling Items

Thought Bamboo Shirt
A simple black women's t-shirt composed of bamboo textiles. Find some options here
Thought Forest Grey Maiken Scarf
Showcasing Thought's unique and vibrant pattern prints, this summer scarf is composed of a breathable organic cotton and recycled polyester.
Thought Midnight Navy Birgit Skirt
Another item showcasing the beautiful and bold Thought Clothing pattern prints; this navy blue skirt is imprinted with a yellow flower petal pattern.

Thought Womens Sleepy Cabin Socks
Thought Clothing's unique range of bamboo socks goes even further with this product which is adorned with a cotton faux fur lining. They are comfortable, warm, and available in a few neutral colors such as grey. Find them here.
Thought Elgin Bamboo Tights
These comfortable tights are perfect for the gym or a fun day outdoors. They are composed of bamboo textiles and designed to be stretchy, comfortable and well-ventilated. Find them here

~ Final Thoughts
Thought clothing is a dynamic company that has grown to beautifully cater to a niche market. Their focus on sustainability has allowed them to grow to dominate the world of sustainable fashion. Now with them moving more into high fashion, they cater to an even wider array of people. Their wide range of colors, prints, and styles means that almost anyone can find something to love about Thought Clothing.

~ Q&A's

What fabrics does Thought Clothing use?
Thought Clothing uses many sustainable fabrics such as bamboo, hemp, ramie, and organic cotton.
Why does Thought Clothing focus on summerwear?
Thought's Australian origins lead it to specialize in summer wear. It is now a dominator in this niche market.
Why did Thought Clothing change its name from BrainTree Clothing?
The brand thought that the name Thought Clothing was a better reflection of their process, which requires thought about all aspects of sustainability. The new name was intended to embody the journey they have been on so far as a brand. The brand's founder and chief executive, John Snare, said, 'Our new name is built on our celebrated thoughtful clothing message and we feel it gives us a fresh confidence while reflecting our philosophy about ethics and sustainability.
What does Thought Clothing's move towards wholesale markets mean for consumers?
It means that Thought Clothing is becoming easier to access. Thought Clothing is still available to be purchased as an individual, but more and more wholesale are now selling Thought Clothing apparel thanks to this more.
---
Leave your review:
http://sitesavants.com
Congratulations on your recent performance spike.
Use this to capitalize on that success and scale performance even more: http://sitesavants.com
Thanks
http://aitoolsuite.com
Hi, we've noticed ecopruner.com is getting most of its web traffic from social media. With AI Reach technology, you can automate social media and get 3-5 times more visitors.
Here's a short explainer video: http://aitoolsuite.com
Thank you
Jqev
Dear ecopruner.com Admin!
Are you struggling to get your ecopruner.com website to rank on search engines like Google? As a top SEO expert on Fiverr, I can help.
I offer a complete SEO analysis report that includes a manual site analysis, a review of your onsite/offsite ranking factors, and identification of top ranking drop causes and penalty risks. Plus, my expert reports provide detailed explanations, recommendations, and action plans that you can act on to improve your ranks and avoid penalties.
With over 10 years of experience and 10,000+ satisfied clients, I have the expertise you need to take your site's rankings to the next level. You can check out my services at this link: https://fiverrseoer.com
Please note that my gig is not for SEO experts or marketing agencies who can do their own audits. I do not provide traffic/keyword/content help.
If you're interested in improving your site's search engine rankings, please feel free to contact me for more information.
Best regards,
Raz
Eah Evc prh
Dear ecopruner.com Administrator,
Are you struggling to improve your online presence and reach your target audience? Look no further than my expert SEO services at https://fiverrseoer.com/. With over 8 years of experience and a focus on competitor research, I can create a personalized SEO strategy that caters to your unique business needs.
At https://fiverrseoer.com/, we offer a range of affordable SEO services, including website analysis, keyword research, on-page optimization, link building, and ongoing monitoring and reporting. Whether you're an enterprise, mid-level enterprise, SMB, or a small website, our services can help you stay ahead of the competition and dominate your industry.
By partnering with us, you can rest assured that your website is in good hands. We're located in the heart of Silicon Valley and we pride ourselves on staying up-to-date with the latest SEO trends and techniques.
Visit us at https://fiverrseoer.com/ to learn more about our services and how we can help your business grow.
Best regards,
Sam