~ At a Quick Glance
Founded: 1974
Origin: California
Located: Global
Focus: Wines
Sustainable Materials: sustainably farmed grapes
Most Popular Item: Chardonnay

~ Brand Details
Jackson Family Wines is a family-owned wine company that originated in California and now has 40 vineyards around the globe, from California, Oregan, France, Italy, South Africa, Australia and more. Considered an artisan winemaker, their commitment to excellent wines has kept them in the spotlight for decades. In each region where they create their wine, they maintain consistent quality, focus on conservation of the land, and dedicate themselves to sustainability and superior wines.
Jackson Family Wines sees the potential in the earth that they manage. They have been family-owned and family-run since their inception. While their family of winegrowers has expanded, they believe strongly in family culture. Wine is their passion, and from that passion, they have birthed a multigenerational vision to grow wines of distinction. They focus on business and labor ethics and believe in empowering the people in their wine family.

~ Backstory
First appearing in 1974, Jackson Family Wines was founded by Jess Stonestreet Jackson Jr in California. He was first a farmer, and then a winemaker. His family purchased an aging orchard and planted chardonnay wine grapes, not knowing the booming business that these seeds would grow into. The first chardonnay debuted in 1982. Vintner's Reserve Chardonnay was a result of passion-driven farming. It was sold throughout America to great success, leading to Jackson Family Wines to soon become a leading producer of chardonnay. It did not take long for them to start experimenting with other grapes and wine flavors. Inspired by French wine culture, they parted with a mill on Northeastern France and began to grow in the European market by 1991.
By 1992, they had claimed the title of top-selling Chardonnay in America – a title they have held onto for the past 25 years. In 1993, they expanded into Chile and Italy – from there, they moved around the globe, taking advantage of opportunistic climates in every corner of the earth while committing to conservation of the lands that they occupied, so that winemakers could work from there for generations to come. Focussing mainly on mountain wines and coastal climates, they began to generate a global presence.
Vérité La Muse of 2001 was their first wine to obtain a 100% score from Robert Park Jr. It was the first of 15 perfectly scored wines from Jackson Family Wines. The entire 2007 line of wines received perfect scores, which is unheard of in the world of wine.
Jackson Family Wines has won awards from Robert Park Jrs, was crowned Wine Personality of the Year in 2003 and won a Lifetime Achievement award from Wine Enthusiast Magazine in 2003.
Jackson Family Wines has increased in sustainability as they have increased in quality. They have installed solar panels to power their California vineyards and have earned certification under the Certified California Sustainable Winegrowing (CCSW) program. They were named Drinks Business Green Company of the Year in 2013 and won the California Green Medal Leader Award in 2016.
The Jackson Family committed $4 million to fund a LEED Platinum Certified Winery Building course at the University of California, where they aim to spread knowledge on sustainable winegrowing. Some funding supported the development of a research facility that shares sustainable winemaking practices with the next generation of winemakers.
After the original founder, Jesse Stonestreet Jackson Jr passed, everything was taken over by his business and life partner Barbara Banke. She went on to be the first female names Wine Enthusiast's Wine Personality of the Year in 2012. She was also honored with the Wine Spectator's Distinguished Service Award for her notable leadership. Her daughter, Katie Jackson held up the family's legacy when she was selected as one of Wine Enthusiast's 40 under 40 list of young people shaping the future of the wine industry in 2018.
These achievements are impressive on their own, but they also highlight that Jackson Family Wines is first and foremost a family business, with children and grandchildren stepping up to overtake the roles of the forefathers.
From the beginning and to this day, their wine has been 95% barrel fermented. They attribute its great quality to this and refuse to move away from the tradition. It is a slower way to produce wine than some modern companies undertake, but it ensures that the wine meets the standards that they want it to. They do not use heavy machinery or have carbon heavy factories – the wine is hand stirred once a month until it is done fermenting and ready to be bottled.
Jackson Family Wines has shown consistent excellence and commitment to the wine industry and the land that it occupies. They are a remarkable brand with multiple awards and certificates to speak for their excellence. They are best known for their chardonnay, a celebrated American favorite for 25 years and counting.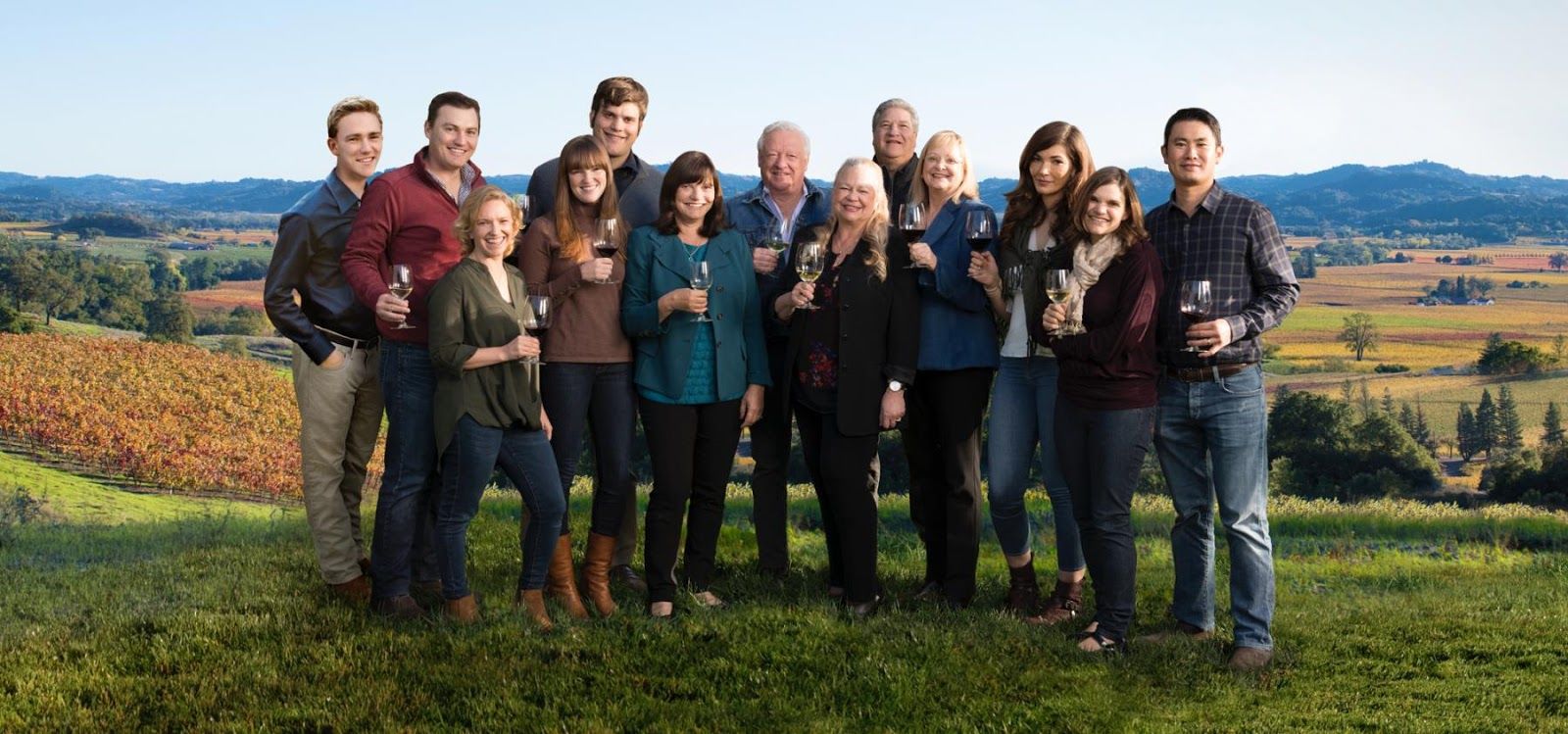 ~ Rating
4 STARS – Jackson Family Wines is a remarkable product that has made great strides towards sustainability and is actively working to ensure a better future for wine farmers. They lose one star because wine is an inherently wasteful industry, even though they are doing everything in their power to minimize their impact.

See what others think of Jacksons Family Wines below (or leave your own review at the bottom of the page)

~ Public Rating
0 out of 5 stars (based on 0 reviews)

~ Brand Breakdown
Jackson Family Farms is a global wine leader, leaning heavily on traditional methods of winemaking while growing sustainability in the industry.
They are world-renowned industry leaders with facilities in all corners of the globe.
Jackson Family Farms aims to educate the future generation on winemakers, leading the way towards a more sustainable wine industry for all.
As of 2019, they are global leaders, pioneers of wine production and perhaps most importantly, pioneers of sustainable winegrowing. Their great efforts to educate go above and beyond what many other brands have achieved.
Pros:
Excellent quality
Wide range of wines
Award winning
Sustainable farms
Ethical labor
Working to reduce environmental impact
Working to educate future generations
Cons:
Large occupation of land
Water wastage
Pesticide use
Jackson Family Wines released a sustainability report in 2016 which highlighted their efforts towards conservatorship and sustainability dating back to 2008. It showed a 31% reduction in water use in that period. They are the only winery to use a waterless tank sanitation system, functioning instead with the use of ultraviolet light. The number of gallons of water used to make wine has dropped by 41% since 2008.
They boast the largest scale solar energy farm in the wine industry, backed by Tesla Powerpack batteries. They recycle 98% of packaging waste produced by its bottling operation. The 2016 report also showed that they had reduced greenhouse gases by 17 percent. They have a solar powered weather station that uses sensors to detect temperature change and circulates air accordingly to protect growing vines.
Jackson Family Wines has also worked hard to reduce their pesticide use. One of the ways they have done this is by utilizing nature in the form of owls and falcons that feed off of pests without any disturbance to the wine grapes. Drones are used to detect moisture levels in crops as well as nutritional deficiencies. Pressed grapes are composted and returned to the soil after use.
In response to the California drought, Jackson Family Wines focused on planting vines that have deeper roots and require less irrigation. They also run PVC piping directly to a reservoir on Green Valley Creek to keep released water in the local ecosystem and to make sure that endangered salmon inhabiting the reservoir have a constant supply of water.

Top 5 Selling Items

Chardonnay
Jackson Family Wines' first and finest export, the white wine has been masterfully made with generations of insight and knowledge. The full and round chardonnay originates from California and pairs well with spicy dishes. It has an alcohol content of 13.5% and is best served between 10 and 12 degrees celsius.
Zindandel
A rich and powerfully flavored red wine. Raspberries, black cherries, and blackberries are all included, creating a vibrant flavor cocktail. Fermented to perfection in American oak for 16 months, the deliciously fragrant wine pairs well with savory dishes, beef, and cheese.
Cabernet Sauvignon
A delightful concoction with hints of black cherries and licorice, the vibrant red wine pairs well with game meat and mature cheese. Originating from California, it has an alcohol content of 13.5% and is best served between 16 and 18 degrees celsius.
Merlot
A dark ruby red wine with fruity flavors and a hint of black pepper. It boasts a rich and smooth taste. Made in aging wood with added cinnamon, clove and cedar, the Merlot has an alcohol content of 14% and pairs well with beef.
Pinot Noir
A young red wine matured for only 8 months, the Pinot Noir is vibrant and dark with a complex fruity flavor. It originates from California and has a 13.5% alcohol content.

~ Final Thoughts
Wine lovers all over the world have been celebrating Jackson Family Wines for decades. Their superior product and commitment to sustainability has made them a brand to be reckoned with.

~ Q&A's
Where was the original wine farm?
The first winery was in California
Where was the first European location?
Northeastern France
Do all of the Jackson Family Wine vineyards uphold the same sustainability of the one in California?
No, but Jackson Family Wines is actively working to improve the sustainability and carbon footprint of every vineyard.
What kind of wine does Jackson Family Wine specialize in?
Chardonnay
---
Leave your review:
There are no reviews yet. Be the first one to write one.