~ At a Quick Glance
Founded: 2004
Origin: UK
Located: UK with worldwide shipping
Focus: snack bars
Sustainable Materials: organic, dairy-free and gluten-free
Most Popular Item: fruit and nut bars

~ Brand Details
Nākd's snack bars are a mini-meal revolution. Nākd makes tasty treats from 100% natural ingredients, smashed together with no added sugar, no dairy, no gluten, no syrups, and no added guilt – to your diet or the environment. The healthy snacks are designed to make you feel good, morally and physically. Everything that they produce is completely vegan-friendly, cruelty-free, and as natural as it can be.

~ Backstory
For the past 14 years, Nākd has been making snacks that are as environmentally conscious as they are delicious. Available in a wide variety of fun flavors, sold in packaging that comes in every color of the rainbow, and encompassing delicious flavors into a healthy lifestyle; Nākd is motivated by creating healthier snacks for a healthier world. Their website states that they are motivated by making the world a better place, and they do it by making snacking healthier and more fun, as well as working with a ton of charities. They're always actively improving the world around them.
They have something for everyone – with flavors composed of everything from cocoa to peanut butter to blueberry muffins.
Nākd believes wholeheartedly in wholefoods. That means that everything they sell is made from 100% natural ingredients, 100% of the time. They process everything as little as they possibly can and don't use any extra sugars, additives or preservatives. They ethically source everything and work hard to deliver the finest quality on the market.
Known for their unique take on health that doesn't sacrifice deliciousness, Nākd's snack bars are the solution to your sweet tooth that won't harm you or your environment.
A visit to their website will help you find their blog that focuses on healthy living. They have everything from exercise tips to recipes. You can also find information on the large number of charities that they work with on their journey to make the world a better, brighter place.
Speaking of brightness, their packaging is a vibrant display of creativity – and so are their product combinations. Some popular snack bars are "Blueberry Muffin", "Carrot Cake", and "Lemon Drizzle". Each bar is wrapped in a signature color and displays nutritional information. Standard bars are 35grams, but they do offer a variety of other snacks in different sizes, including Nibbles for the less hungry and value packs for those who want to share and spread happiness.
Nākd has paired up with a lot of online stores to happily deliver their products to you with ease, wherever you are in the world. Their snack bars are high in the good kinds of fiber and super nutritious, despite their simplicity. Their slogan is pretty modest; 'Just Fruits and Nuts, Smooshed Together' – but don't let that fool you, because Nakd bars are an innovating snack that will satisfy your sweet tooth and get you going.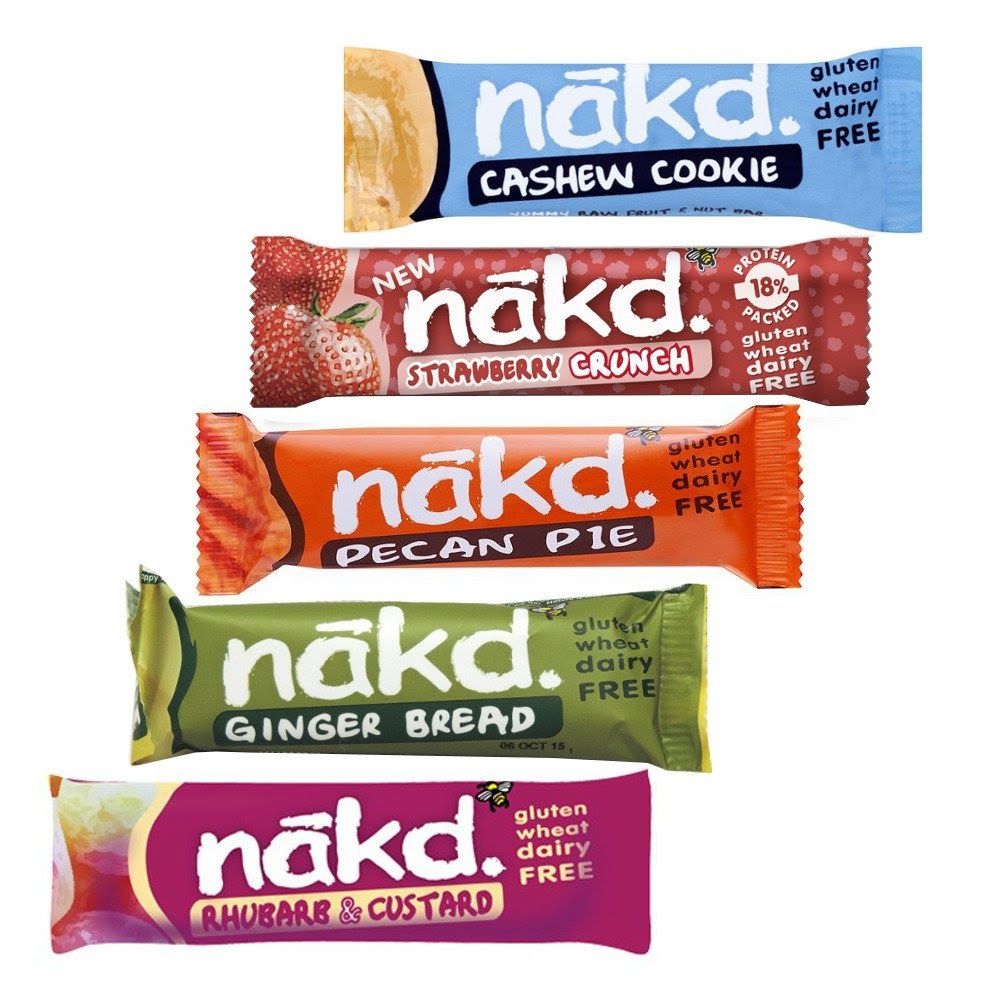 ~ Rating
5 STARS – you've got to love Nākd's snack bars – they're as delicious as they are nutritious. Sweet and tasty treats are a much-needed solution to many of the world's problems – from the rising rate of obesity to unethical farming practices. Nākd has so many flavors that everyone can find something to love, and their fun and informative packaging is the cherry on top.

See what others think of Nākd below (or leave your own review at the bottom of the page)

~ Public Rating
3.1 out of 5 stars (based on 167 reviews)

~ Brand Breakdown
Healthy food is in fashion. Nākd is delivering it in style. Who doesn't love a good snack bar? Nākd is going further than most, delivering 100% natural, vegan-friendly and gluten-free products that aim to make the world a better place one bite at a time.
The snack bar industry has been booming for a long time, but Nākd is carving its own niche and forcing competitors to step up by delivering health-conscious, environmentally conscious and high-quality products. They're super accessible thanks to online shopping and they're affordable, too.
Nākd's bars have nowhere to go but up. Some could speculate that they might add even more flavors and variety to their range. It would be great to see them expand their shops into the US and tap into the American market. Luckily, they don't need to have physical shops in the US, thanks to shipping and the internet. Their website states that they are always on the look-out to supply to new wholesalers, so a fully utilized American market definitely doesn't seem out of reach.
As of 2019, they are popular in the UK, Europe, and gaining popularity globally. They are one of the healthiest snacks on the market that still satisfies a sweet tooth and can give you a kick with all the right kinds of energies.
Pros
Healthy
Gluten-free
Dairy-free
Lots of flavors
Vegan-friendly
Cons
Limited US availability
Unsustainable packaging
Nākd sources from ethical farms and supplies healthy food – but their sustainability doesn't end there! They also fundraise for a ton of charities and are constantly trying to make the world a better place in every possible way. Their website divulges in all the details of a long list of causes that they fund and follow.
Some examples are:
Animal Aid – Animal Rights and Rehabilitation
Trekstock – Teenage Cancer Trust
Planeat – Healthy Living Activism
WeForest – Nature Conservationists
Sumatran Orangutan Society – Animal Rights Activists

Top 5 Selling Items

Fruit and Nut Bars
Nākd's most popular export is their fruit and nut bars. Available in a large variety of fun flavors, fruit and nut bars are a pocket-sized snack that is as healthy as it is delicious. Made with 100% natural ingredients, they encompass Nakd's slogan of 'Just Fruit and Nuts, Smooshed Together!'
Some flavors are Blueberry Muffin, Strawberries and Cream, Salted Caramel and Coconut Bliss. Bars are 35grams and display all of their nutritional information on the packaging. This varies from flavor to flavor with all the delicious and fully natural ingredients that Nākd packs into each different bar. Find it here
Oaties
An oat-based snack solution, more simple than the fruit and nut bars but equally as delicious. They're a high energy snack to get you going. Pocket-sized, delicious and nutritious, they're available in a wide range of flavors such as Berry Bliss, Banana Bread, and Cocoa delight for those craving a bite of chocolate. Each bar is 35grams and displays all nutritional information, that varies from flavor to flavor. Find it here
Nibbles
Nibbles are the bite-sized alternative to a full snack bar. Available in all of the same delicious flavors, they're handy for when all you need is a nibble. Like everything else, they're manufactured to be gluten-free, vegan-friendly, and crammed full of healthiness that tastes as good as it feels. Find it here
Posh Bits
Nākd has 'poshed up' some of their snacks with rich dark cocoa, to really satisfy your sweet tooth when a snack bar just isn't enough. Ethically sourced cocoa is used and the snacks still don't have any dairy, wheat, or gluten in the mix. They're a chocoholics solution to healthy eating. Some available flavors are Cocoa Raspberry, Cocoa Sea Salt, and Mandarin. Find it here
Crunch
Nākd's Crunch bars are a protein-packs snack. They're designed to give you even more energy than the other bars, perfect for smashing a gym session or exploring the wild. They're full of soya and fiber. They're vegan-friendly and available in Apricot, Strawberry, Cocoa or Banana flavors. Crunch bars are 35grams and display all nutritional information on their packaging, which varies from flavor to flavor. Find it here

~ Final Thoughts
Nākd's snack bars are as healthy as they are fun. Their charity missions are making the world a better place as they enable you to make your diet healthier and more exciting all at once. Their vision is spreading joy in so many ways. They're the perfect on-the-go snack, 100% natural and 100% worth supporting!

~ Q&A's
Are chocolate products still vegan-friendly?
Yes – the cocoa products don't have any dairy, so they are still vegan-friendly.
What is the source of protein in the Crunch bars?
Most of the protein comes from soya?
There is no shop near me that stocks Nākd products, where can I get them?
Amazon, Amazon Pantry, Tesco, ASDA, Morrisons, and Ocado have all partnered with Nākd to make shipping right to your doorstep easier than ever!
Will it satisfy my sweet tooth?
Yes! Nākd has no added sugar, but the natural sugar found in fruits is available in abundance!
---
Leave your review:
Aetnt Rsj
Are you a business owner struggling to increase your ROI? Do you feel like no matter how hard you try, nothing is working? You're not alone!
Luckily, Shine Ranker can help get your sales back on track and maximize your profits in no time. Shine Ranker makes it easier than ever for website owners to boost their ROI with just a few clicks.
So what are you waiting for? Click the link now and start seeing results with Shine Ranker!
https://aibotdigi.com
Regards,
Mark
9169 W State St #1614 Garden City, ID 83714
Avoid Marketing Messages Here:
https://voicesearch1.skin/?info=ecopruner.com
Vcpbl
Hello,
Are you struggling to make enough sales and tired of using multiple platforms to market your business?
HighLevel's all-in-one marketing platform can help you save time and money while capturing new leads, automating booking, closing sales, and much more.
With the power of AI, you can simplify your marketing efforts and achieve better results in no time.
Try HighLevel now with a 14 day free trial and see the difference it can make for your business.
Click the link to get started today.
savemytimebizhub.com
Regards,
Bill
224 Westwood Cir., Dalton, GA 30721
Unsubscribe:
optoutforever.com/?site=ecopruner.com
C Yc
What if I told you there is a lazy way people are using to make $1,000 daily with ChatGPT and TikTok?
Watch this video and discover the ultimate money hack that will change your life.
https://www.instagram.com/reel/CpEJ0uKDvov/
NOTE: Not interested in generating passive income streams?
Click this link: https://email-sending.net/?domain=ecopruner.com
E N I
Hey,
i sent you testerday massage with wrong email.
below is my correct email.
dont worry-i will not send you this massage again and i will not spam you.
you can replay me if you want.
I have noticed that your business is showing on google but it's not on the first page, so I wanted to personally reach out and help you,
By giving you a $125 advertising voucher, that you can use to advertise your business on first page positions.
I am going to be completely honest,
I am NOT going to sell you anything, I am just telling you how to get this voucher as most people don't know about it,
And if you get it, I am going to receive a small affiliate commission for it.
Just being transparent…
How to get the voucher?
Simply reply to this email info@findyourdiscounts.com
and I am going to send you the link right away, I don't want to spam you if you are not interested.
I am a real person and I like to keep it real!
Best of luck!
Ajaequv Ida
Greetings! My name is Zayne, and I'm the CEO of AISocial. I recently came across your website and was thoroughly impressed with what I saw. That's why I'm reaching out to you today with an opportunity to join our team as an app reviewer.
As we expand our reach, we're in need of a few more talented individuals to fill this important role. The best part? This position offers flexible hours, allowing you to work around your existing business commitments. You'll be paid a minimum of $200 per day, and your responsibilities will include writing a handful of app reviews each day.
We're specifically looking for candidates in your area and are hiring three people right now. If you're interested, simply click the hiring link below to learn more about the job and its requirements. We're seeking the most qualified applicants, so don't hesitate to apply if you meet the qualifications.
Visit https://www.theaisocial.com/writeappreviews to get started. Thank you for your time, and we hope to see you join our team soon!
Best regards,
Zayne from AISocial