~ At a Quick Glance
Founded: 2005
Origin: Amsterdam, Netherlands
Located: Global
Focus: Sustainable, ethical chocolate
Sustainable Materials: ethically sourced cocoa, recycled paper packaging
Most Popular Item: Dark Almond Sea Salt Bar

~ Brand Details
'Crazy about chocolate, serious about people' is Tony Chocolonely's slogan. Focused on producing and selling chocolate while closely following fair trade practices, strongly opposing slave labor and child labor, and sourcing cocoa from sustainable sources – Tony's Chocolony is a noteworthy brand for more than just their crazy chocolate bar combinations.
Known and loved for their absurd take on traditional chocolate bars, Tony's Chocolonely is changing the chocolate game in more than one way.

~ Backstory
It all started in 2001 when chocolate manufacturers around the world made a pledge to follow ethical labor practices; but in 2002, it came out that exactly none of them were upholding the agreement. This discovery was made by a Dutch investigative reporter, Teun van de Keuken, who then decided to take matters into his own hands.
After he made the discovery, he took himself to court for 'knowingly purchasing an illegally manufactured product', and he had former child slaves who worked in cocoa farms testify against him to strengthen his case. As he expected, the case was thrown out of court for being outside the judge's jurisdiction, thus proving that no one was actually willing to step up and make the world of chocolate manufacturing an ethical place.
Now with evidence that no current chocolate manufacturers had an interest in ethical practices, Teun van de Keuken decided to form his own company that would be committed to ethical and sustainable production. His first goal was to utilize slave-free cocoa, which he did with his first chocolate bar in 2005. In 2007, an Amsterdam court acknowledges that Tony's Chocolonely was made with slave-free products and labor. A Dutch importer of Swiss chocolate tried to sue Tony's Chocoloney for reputation damage to the Swiss chocolate industry – going so far as to claim that 'slave-free chocolate is impossible to produce' – but the lawsuit was unsuccessful and Tony's Chocolonely continued to grow.
In 2010, Dutch TV show Een Vandaag reported that the hazelnut that Tony's Chocolonely was being harvested by children in Turkey. Tony's Chocolonely immediately switched to use a Dutch hazelnut farm. Despite industry opposition, Tony's Chocoloney was now ready to expand itself beyond the Netherlands. They started setting up shops globally and reached the USA by 2015. Tony's Chocolonely is now available all over the world with the same promise of ethically produced chocolate that it was originally founded on.
The name of the brand also has an interesting but sad origin. Teun van de Keuken saw himself as the only person in the chocolate industry who was interested in eradicating slavery; that's why he named his brand Tony's Chocolonely.
Best known for its fun blends of chocolate with other exciting ingredients, Tony's Chocolony turns ethical labor and sustainable ingredients into a world of fun and creativity.
Tony's Chocolonely's website is something that we have never seen before in the chocolate industry. The interactive home page goes into detail about the brand's global impact and lists how much cocoa they have used, how many bars they have sold, and how many farmers they have worked with.
If ordering existing products from Tony's Chocolonely seems a bit boring, you can create customized chocolate bars using their website's tools – you can even wrap them in your own designs.
Another tradition that they break is evenly sized chocolate bars. They think that it makes no sense for bars to be evened into equal squares when the chocolate industry is so shockingly full of inequality. The uneven bars strive to serve as a reminder of the unequal distribution of profits in the chocolate industry.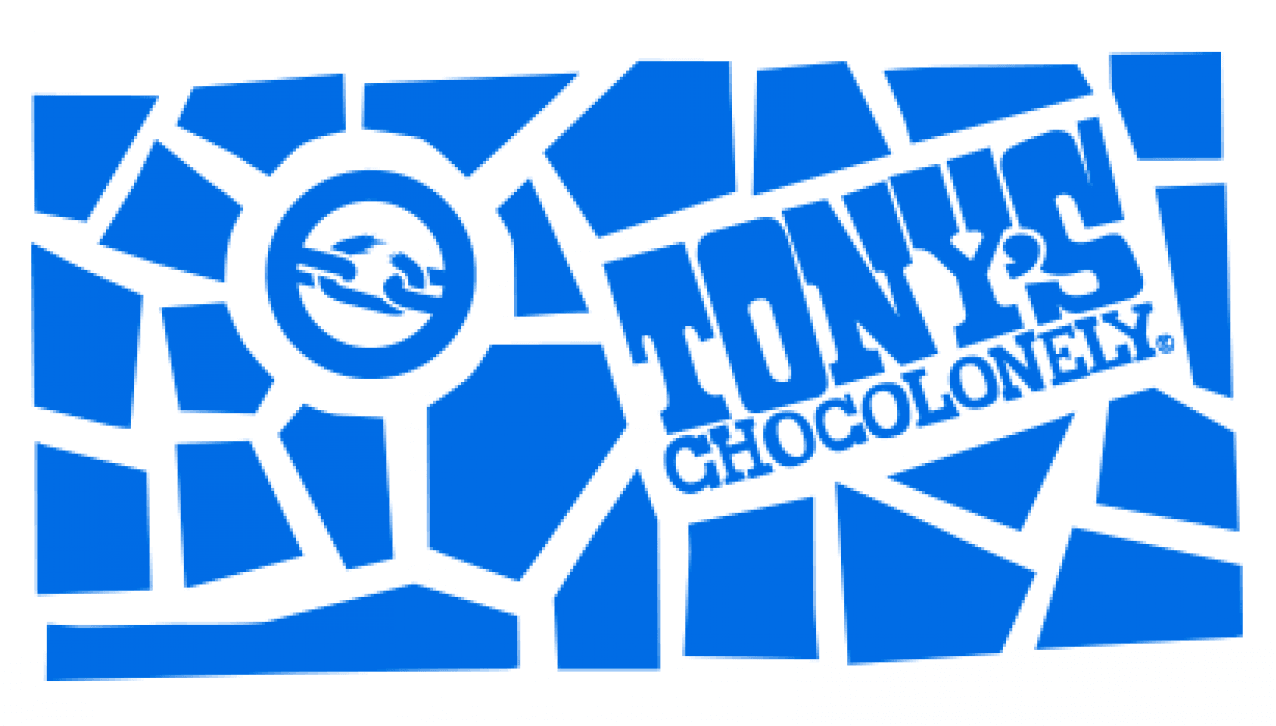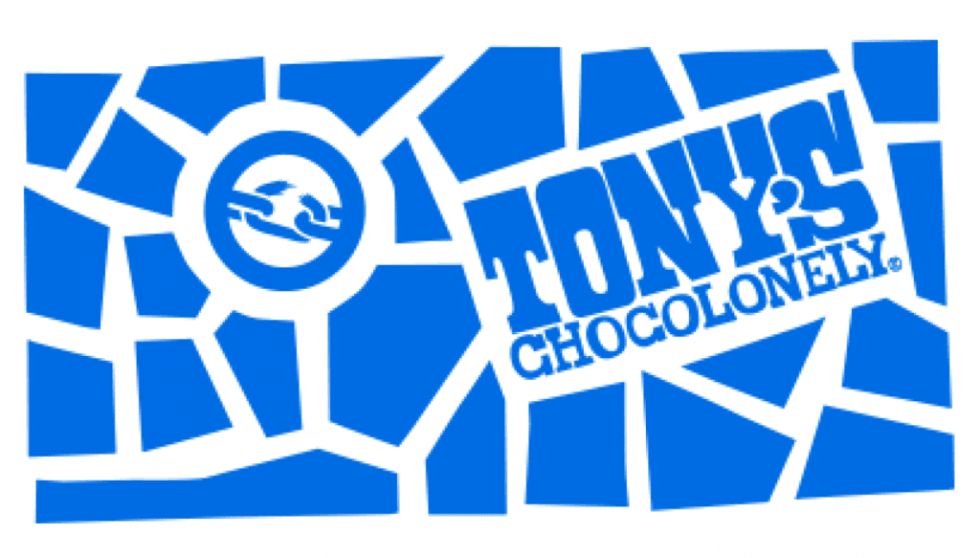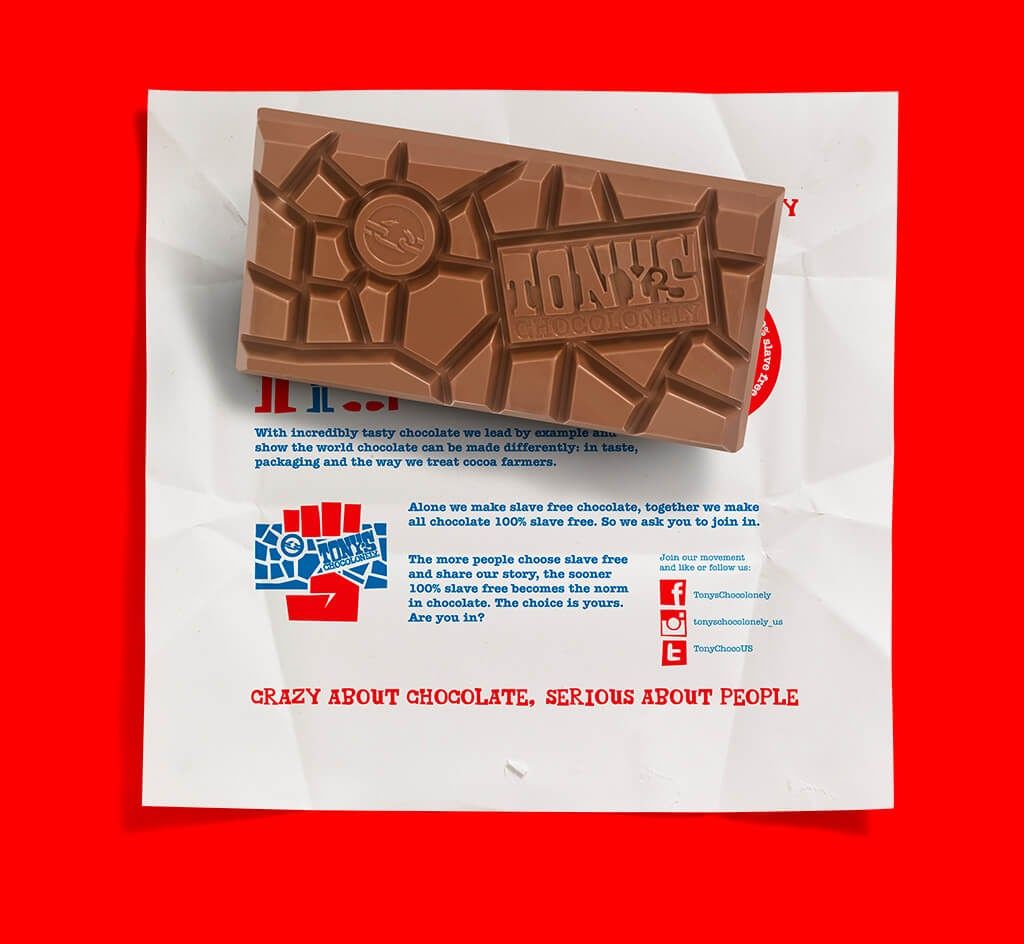 ~ Rating
5 STARS – With a dynamically delicious chocolate range and a mission to improve the world, it's hard not to fall in love with Tony's Chocolonely.

See what others think of Tony's Chocolonley (or leave your own review at the bottom of the page)

~ Public Rating
5 out of 5 stars (based on 1 review)

~ Brand Breakdown
Tony's Chocolonely is not trying to follow trends, they are trying to break them. The chocolate industry has been plagued by slavery and riddled with unethical practices. Tony's Chocolonely is trying to do the opposite. An enterprise built on ethical labor, Tony Chocolonely's legacy is not the trends that they follow but the trend they are striving to create.
Their dedication to doing things differently has truly put them in a world of their own. Not only is their production chain different, but the product is different, too. Tony's Chocoloenly combines flavors and add aspects to their chocolate bars that are unseen and unthought of by competitors.
Tony's Chocolonely's website goes into all the details of their sustainability mission and outlines their future plans to continue improving. Still a relatively new brand, it can be safely assumed that we have only seen the beginning. Tony's Chocolonely is bringing out fantastically delicious new combinations all the time, and they allow fans to design their own chocolate bars on their websites, presumably fueling their internal creativity.
Continuing to grow and improve all the time, 2019 sees Tony's Chocolonely becoming a more mainstream and recognizable chocolate brand. Fairtrade and delicious, the future looks bright for chocolate thanks to Tony's Chocolonely.
Pros
Sustainably sourced cocoa
Ethical labor
Recycled packaging
High-quality product
Cons
Expensive compared to competitors
Limited vegan options
When you buy Tony's Chocolonely, you can indulge in a delicious treat without contributing to the evil that seemed to come hand in hand with the chocolate industry. Chocolate may still be a guilty pleasure but at least with Tony's Chocolonely, the guilt is as minimal as a cheat day in a diet, not as catastrophic as contributing to slave labor.
When it comes to sustainability, Tony Chocolonely speaks for itself. What other brand has leaders who took themselves to court to prove a point about slave labor, and have been sued by other brands for ruining reputations on the basis that slave trade is impossible to abolish? Only Tony's Chocolonely. The recyclable packing was a no-brainer and they continue in their efforts to eradicate slave and child labor and source the highest quality, ethically farmed products.

Top 5 Selling Products

Milk Chocolate Bundle
Including the top 3 milk chocolates that Tony's Chocolonely lovers can't get enough of, the Milk Chocolate Bundle combines the classic Milk, Milk Caramel Sea Salt, and Milk Hazelnut. Find it here
Dark Chocolate Bundle
For those who have a sweet tooth but like it a little darker, the Dark Chocolate Bundle includes all the flavors of the Milk Chocolate Bundle, but with dark chocolate instead. Dark Milk, Dark Caramel Sea Salt, and Dark Milk Hazelnut feature in the variety pack. Find it here
Dark Almond Sea Salt Bar
With ethically sourced almonds, dark chocolate and the added zest of sea salt, this chocolate bar is one of Tony Chocolonely's crazy creations that chocolate lovers can't get enough of. The weirdly wonderful flavor is one of their top sellers. Find it here
Fairtrade White Chocolate with Rasberry Poprocks
If you think that ethical chocolate is hard to find, wait until you research white chocolate. Tony's Chocolonely is one of the only brands to offer fairtrade white chocolate. Rasberry Poprocks added to the mix give it a crunchy edge and the sugary treat proves that fairtrade food can be fun and delicious. Find it here
Tiny Tony's 100 Pack
Individually wrapped chocolate bites in fun different favors. Tiny Tony's 100 pack includes a mix of Tony Chocolonely's vast array of flavors and combinations.It might seem unsustainable to wrap each piece as a unit, but Tony's Chocolonely uses recycled paper and packaging, and it can be recycled again, so it is not entirely wasteful. Tiny Tony's 100 pack lets you taste the world of Tony's Chocolonely in one delicious purpose. Find it here

~ Final Thoughts
Chocolate lovers can rejoice that there is an option as ethical as Tony's Chocolonely. A creative brand with the environment in mind, their high-quality chocolate bars are worth cheating on your diet for.

~ Q&A's
Why are the bars unevenly divided?
Tony's Chocoloney thinks that it doesn't make any sense for bars to be divided into even squares when there is such inequality in the chocolate industry. Their weirdly divided bars strive to serve as a reminder.
Are the other ingredients ethically sourced?
Yes – Tony's Chocolonely ensures that everything is ethically sourced and 100% free of slave labor.
How can Tony's Chocolonely ensure that there is no slave labor?
Tony's Chocolonely goes to great lengths to make sure that they are using ethical labor. They visit farms that they source from and are always actively searching for new farms.
What options are available for vegans?
Tony's Chocoloenly offers a limited range of vegan chocolate. The latest is a dark chocolate, pecan and coconut flavor.
---
Leave your review:
Best chocolate ever
Best chocolate ever.
Brand that is really trying to go towards 100% slave free chocolate, and has been honest about their process. Also are they not trying to compete with orher brands, but rather focused on showing how it's possible to make honest chocolate by giving their "secrets" away in order to change the chocolate industry.